J-point is the point at which the QRS complex meets the ST wave.
ST segment elevation with an
upward
convexity is usually benign, especially when seen in healthy, asymptomatic individuals.
ST segment elevation with a
downward
concavity is more likely to be due to acute coronary syndrome.
Although ST elevation with an upward concavity and J-point notching often reflects a normal variant, this is only true if the patient is asymptomatic. The same ST pattern in a patient with chest pain is due to acute coronary syndrome until proven otherwise.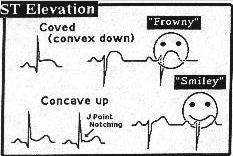 Image source: Medinfo-UFL
J-point elevation, ST-segment elevation, and T-wave changes are reported with high frequency in athletes.
When examining the ST segment, focus on elevations or depressions 0.06 seconds after the J-point (since the ST segment can at times be sloping).
References:
ECG Web Brain
is a useful online and iPad/iPod reference (no longer free, $15 per year).
Sport Medicine
University of Maryland-
EKG
ST-Segment Elevation in Conditions Other Than Acute Myocardial Infarction -
NEJM
- 11/03
EKGs Showing
Normal ST-Segment Elevation
and Normal Variants
EKGs Showing ST-Segment Elevation in
Various Conditions
Other free
Palm programs
from
P-brain